Pamela Crawford 14 Inch Single Tier Basket Planter & Coco Fiber Liner Set
Original price
$29.99
-
Original price
$29.99
Please note these baskets include liners with holes for side planting. We cannot substitute the liners without holes so they would be a separate purchase.

14" diameter x 7" deep holds eight side plants, eight top edging plants and one 6" or three 4 1/2" centerpiece plants.

Basic Basket Planters are constructed from heavy gauge steel wire coated in black plastic and are supplied with removable clip-on chains.

The advantages of side planting are many. You get a lush, fully covered container much more quickly and an impressive floral display in weeks instead of months. But side planting used to require time consuming handwork, cutting holes in liners or juggling loose moss. Pamela Crawford's new side planting containers mean you can create spectacular plantings in a small fraction of the time it used to take.

New-design baskets and liners give spectacular instant results. Ingenious holes and slits in the coco-fiber allow mature plants with 3" to 4 " root balls to be inserted.

Side planted hanging baskets look terrific from below as well as from the side. Hang them in groups of three or spaced singly along a porch. Or use our Border Column Kits designed just for these Basic Basket Planters.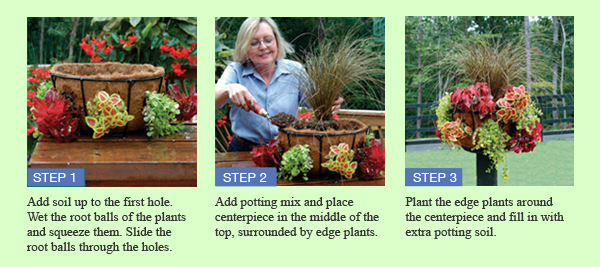 Imagine these colorful Border Column displays in your garden this year.